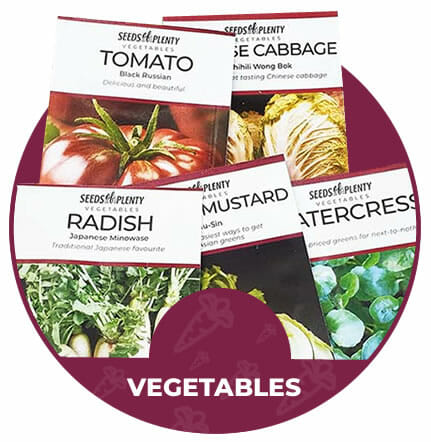 We sell high quality vegetable seeds online In Australia
Some of us like traditional vegetables like potatoes, green peas, squash and onions, because they're versatile and familiar. But there are so many other varieties of vegetable to wet your appetite and for those who's palates are yearning for something new and different you can get them all here at our online vegetable seed store for Australian Gardeners.
Rare vegetables seeds online
Many rare varieties of vegetable seeds have unique tastes and appearances that have just become forgotten or neglected because they don't produce uniform crops of veggies like the ones you see in supermarkets. The Seeds of Plenty collection of open-pollinated, non GMO, and heirloom vegetable seeds for sale online offers many varieties that either add a tweak to the old favourites or are rare and completely different from traditional varieties. We pride ourselves on being a little different and adventurous and we have scoured the world to offer one of the best collections of rare vegetable seeds available online in Australia.
Rare varieties like Romanian Sweet Capsicums, Lemon Cucumbers and foot long Snake Beans are available all year round from our online seed store and if you can't find the variety of vegetable seed for sale that you want. Just let us know and if we don't have it we can often find it or suggest something even better.